A major advancement for OpenRefactory is our Memo of Understanding with Tata Consultancy Services (TCS). The MoU creates an opportunity for OpenRefactory to partner with TCS who helps to bring our technology to the very large base of TCS's customers. The MoU relationship was made possible thanks to the introduction of OpenRefactory to TCS by Dr. Jeffrey Ullman. Dr. Ullman, who is a highly regarded professor of Computer Science at Stanford University, and an expert in compilers and code analysis, is part of OpenRefactory's advisory board.
Through the MoU agreement, OpenRefactory met with TCS and were invited to become part of the TCS Co-Innovation Network or COIN. As a COINtm partner, OpenRefactory can work alongside TCS to provide our Intelligent Code Repair (iCR) service to existing TCS clients.
And, as a COINtmpartner, OpenRefactory was invited to participate in TCS's annual flagship Innovation Forum in New York City. Over 300 executives from top global companies doing business with TCS participated in this event designed to introduce them to the latest technologies and to meet the emerging new players. A handful of startups are selected to get introduced to these companies and to present their technology. It was a major achievement to be able to participate.
At the Forum, OpenRefactory gave a presentation on Robotic Code Repair during the security track. The presentation was delivered by Dr. Hafiz, CEO and Founder of OpenRefactory.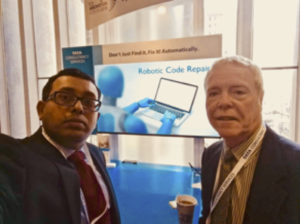 The presentation was very well received and piqued much interest in this new concept of Intelligent Code Repair. As a COINtmpartner, OpenRefactory was also provided with a Kiosk in the Innovation Pavilion. Dr. Hafiz and Charlie Bedard, are shown at right in front of the OpenRefactory kiosk.The event was quite successful for OpenRefactory. We met a large number of interested CEOs, CTOs and CISOs for many companies. In particular, we received interest from over a dozen companies requesting a technical follow-up with TCS and OpenRefactory. Those companies included such varied businesses such as JP Morgan Chase, Walgreen's and GE Healthcare.